meet the team at High Point Chiropractic

Doctors Andy and Kandyce Mutter believe in assessing your health and quality of life from many angles. Utilizing chiropractic adjustments and spinal rehabilitative techniques to restore skeletal alignment and muscular balance, the body can begin to heal with amazing results.
The human body is a unique machine that requires many different components to be in place in order to function at its highest level. At High Point Chiropractic, you will be able to achieve that level of health that allows you to truly "Enjoy Life Again".
We look forward to helping you reach the quality of life that you deserve.
High Point Chiropractic was established with the goal of creating a facility that can address a variety of alternative health care needs.
This well-rounded approach allows our patients to access solutions for many of their health issues without having to rely on drugs or surgery. Chiropractic has proven to be effective in the treatment of many conditions including:
Headaches
Shoulder Pain
Neck Pain
Foot Problems
Back Pain
Painful Joints
Arm Pain
Pain Down Legs
Muscle Spasms
Dizziness
Hip Pain
Numbness
The structure of our spine is designed with the alignment necessary to ensure that we can enjoy our lives without feeling pain and illness. As we progress through life, this alignment can become altered from its normal position due to the postures we put ourselves in during work and recreation. At High Point Chiropractic, the doctors have completed post-graduate training in a technique known as Chiropractic BioPhysics which focuses on restoring the normal alignment and mechanical function of the spine. By restoring normal structure and function, we relieve the body of abnormal stresses and allow for proper healing to take place.
Chiropractor
Andy Mutter D.C.
Dr. Andy Mutter knew from the age of 12 that he was going to be a chiropractor in Burlington, MA. After a severe bout of allergies, chiropractic adjustments were the only thing that helped provide long-lasting relief. The idea that the body functions better without spinal misalignments (or subluxations) intrigued him.
This led him to Logan College of Chiropractic in Missouri, where he received a Bachelor's of Science degree in Human Biology, as well as a Doctorate in Chiropractic.
Dr. Andy takes care of patients of all ages. He is particularly skilled at working with athletes and enjoys optimizing his patients' diet and exercise regimes. He enjoys taking care of children and is a certified provider of the Webster technique which is a chiropractic approach used most often in pregnancy to restore proper pelvic balance and function.
Dr. Andy's goal for all of his patients is to help them establish and meet their own health goals. He strives to provide relief and facilitate healing so that they can get back to enjoying the activities they love without restriction or reservation.
Chiropractor
Kandyce Mutter D.C.
Dr. Kandyce Mutter is a graduate of the University of New Brunswick in Canada, where she earned a Bachelor of Science degree in Kinesiology. After completing post-graduate work at Dalhousie University in Nova Scotia, she went on to complete her chiropractic education at Palmer College of Chiropractic.
She specializes in a corrective spinal therapy called Chiropractic Biophysics® (CBP®), the most researched and validated chiropractic technique in the world. She combines this approach with a diverse array of adjusting styles (including instrument adjusting) to determine the appropriate approach for each individual patient.
Dr. Kandyce works regularly with adult patients but particularly enjoys working with infants, children and young mothers. She is a certified provider of the Webster technique which is a chiropractic approach used most often in pregnancy to restore proper pelvic balance and function. She is a member of the Boston Association for Childbirth Education, Massachusetts Breastfeeding Coalition, Nursing Mother's Council, National Healthy Mothers and Healthy Babies Coalition as well as the League of Chiropractic Women (LCW).
Drs. Andy and Kandyce are active members of the International Chiropractic Pediatric Association (ICPA) and the Massachusetts Chiropractic Society (MCS). They enjoy living a healthy lifestyle and have been keeping very busy with their two sons!

Meet the loves of our lives, Xavier and Oliver! In this picture, Xavier is 10 and Oliver is 8. Both boys have been chiropractic patients since birth. They received their first spinal check and adjustment when they were a few hours old. Yes, we check infant and children's spines as well as adult spines!
The adjustments we administer to little ones are very gentle and important to correct and prevent spinal subluxations (misalignments).
We regularly take care of infants experiencing colic, difficulty with nursing, range of motion difficulties, developmental delays, and Down syndrome. Parents will often bring in their children when they notice bowel and bladder difficulties, asthma, ADHD, and other neurological issues or just to make sure everything is "in line."
"As the twig is bent, so grows the tree"
Taking care of spinal issues is ESSENTIAL to ensuring optimal development!
Chiropractic Assistant
Mary
As a former CNA (certified nursing assistant), Mary brings a deep knowledge of patient care to High Point Chiropractic. She received her training at Nashua Community College where she majored in Health Sciences.
For over a decade, she worked closely with pre and post-surgical patients providing specialized and compassionate care. After developing her expertise in medical care, she was curious about working in a more holistic and wellness-oriented environment. Her decision brought her to the HPC!
Mary loves working with people and focuses her efforts on perfecting the patient experience. As far as personal pursuits, Mary is a lover of the outdoors. Growing up in New England, she loves spending her time in nature which includes skiing the mountains of New Hampshire and relaxing at the many beaches in our area. She has two wonderful children in college and has been happily married for 21 years. Mary is thrilled to be a part of the High Point Chiropractic team and looks forward to working alongside you during your care.
Chiropractic Assistant
Yael
Yael is a graduate of Curry College where she received a Bachelor's Degree in Sociology. She is currently enrolled in graduate school to specialize in Speech Pathology. She hails from New York City and is very excited to be working in health care while she studies.
She is looking forward to learning more about chiropractic care and also, the important health and wellness concepts that will support her future patients!
Fun Facts:
I love to travel
I love my two dogs (Bru and River)
I love interior design and fashion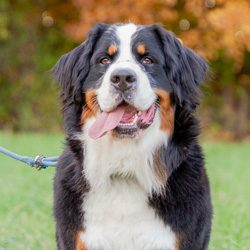 Front Desk Assistant
and Official Greeter
Leia
Meet Leia, our Bernese Mountain Dog. You will find Leia working hard at sleeping during her morning shift at HPC. Known for her initial shyness, Leia is also famous for her slobbery kisses and snuggles once she gets to know you.
If this is your jam, just give her a quick sniff of your hand and you've made a friend for life. Leia spends her awake time working tirelessly on her training and always strives to be a very good girl. When Leia is not at work, she enjoys wrestling with her two human brothers, chewing bones and playing in her backyard.
OFFICE HOURS
---
Monday
8:00am - 11:00am
2:00pm - 6:00pm
---
Tuesday
2:00pm - 6:00pm
---
Wednesday
8:00am - 11:00am
2:00pm - 6:00pm
---
Thursday
8:00am - 11:00am
2:00pm - 6:00pm
---
Friday
Closed
---
Saturday & Sunday
Closed